Highlights :
Free Delivery Nationwide
Flex Tape Rubberized Waterproof Tape
Super strong
Size: 4 Inch x 5 ft
Rubberized
Waterproof tape
Can patch, bond, seal and repair virtually everything
Specially formulated with a thick, flexible, rubberized backing
Conforms to any shape or object
Instantly seals out water, air and moisture
Create a super strong, flexible, watertight barrier
UV resistant
Environmentally friendly
VOC-free
Has a wide temperature range
It can be used in extreme weather conditions
Certain fabrics such as canvas, nylon, polyester, synthetics, cotton and some other materials may need up to 24 hours to reach maximum hold
Terms :
Delivery will be managed by Best4Buy.pk
4 Days Required For Delivery
3 Days Checking Warranty
Exchange is ONLY valid in case of defected / faulty product claimed within 3 days of warranty
Exchange / Replacements will be Processed in 7 days
This video(s) is for guidance and usage purposes. For actual product, kindly check details & images above.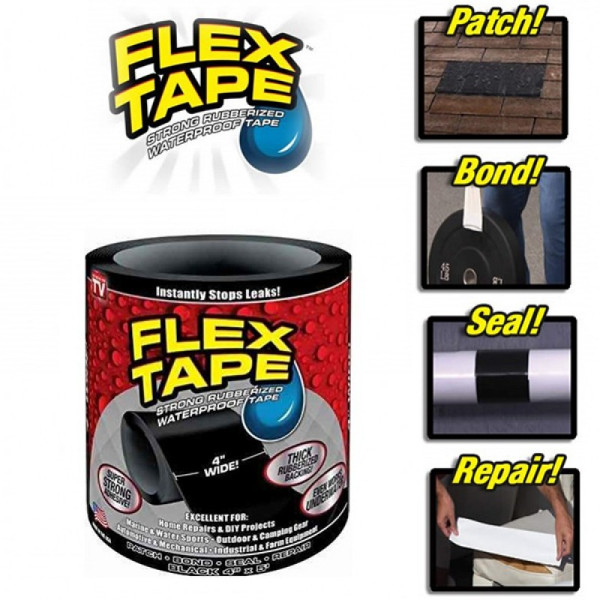 Best4Buy.pk is bringing a deal of Flex Tape Rubberized Waterproof Tape (4 Inch x 5 Feet) in such low, reasonable and affordable price which you can't resist. So what are you waiting for? Come and grab this amazing product only at Best4Buy.pk!

Best4Buy.pk offers Flex Tape Rubberized Waterproof Tape (4 Inch x 5 Feet) at best price in Pakistan with fast shipping in Karachi, Lahore, Islamabad, Rawalpindi, Faisalabad, Sialkot, Peshawar, Quetta, Multan and all the other cities of Pakistan!