Highlights :
Excellent Value For Money
Attractive, fresh, and colorful portable
Cabinets are waterproof, dustproof, and fungi-proof.
Convenient, portable, easy to assemble and dissemble.
Easy removal of dust and stain (washable)
It is stylish, strong, and versatile.
Easily washable and Easy to clean.
Material – Plastic
Strong and solid (each cube can hold up to 8kg)
Material: ABS connector, PP plastic panel, and Rust-proof iron frame
Dimension : 39cm (W) x 35cm (D) x72cm (H)
What's in the box: 1 x 4 Cubes Storage Cabinet/Shoe Rack – Black
This video(s) is for guidance and usage purposes. For actual product, kindly check details & images above.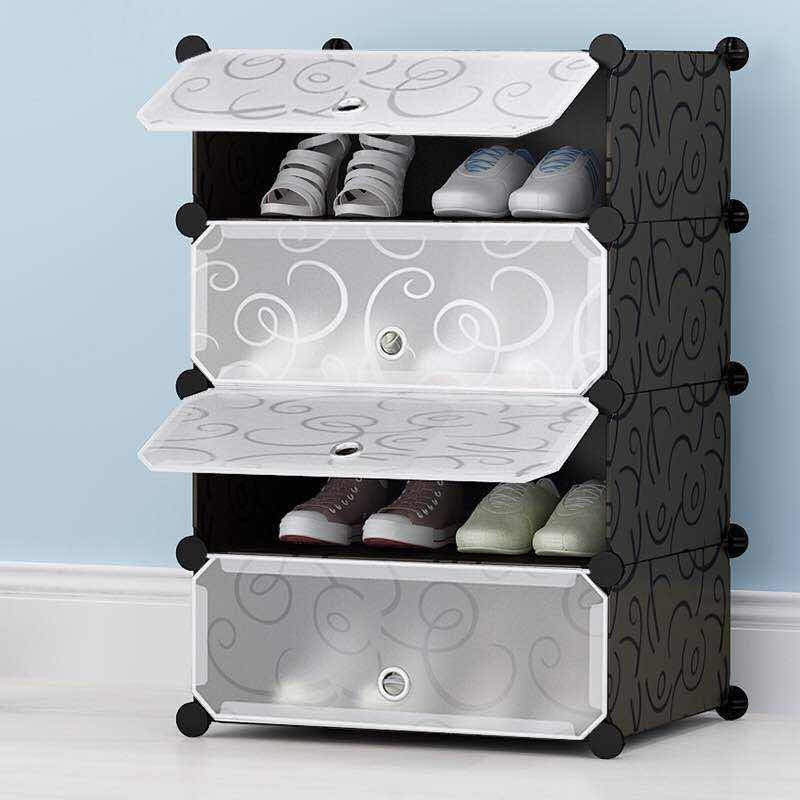 RESISTANT PANELS: made of PP plastic with steel frames, these panels are eco-friendly, toxic-free and durable, holding up to 13 lbs. /cube; the frosted translucent design cheers up the style of the cabinet with a black and white curly pattern;
FUNCTIONAL STORAGE SPACE: 10 rectangular cubbies to store all your shoes in a reduced space; the cubbies can be build up together or separately, offering customizable solutions to fit in different spaces
EASY TO PUT TOGETHER: multi-angled plastic connectors are included to assemble your modular cabinet; it is recommended to use a pair of gloves to protect the hands from getting scratched or harmed while attaching the panels with the connectors
MULTI PURPOSE CABINET: each of the cubbies can store 2 pairs of shoes with a total capacity of 20 pairs of shoes; the modular closet can be used to store not only shoes but clothes, accessories, bedding and lining, CDs and DVDs, toys, cables.
CONNECTORS & MAINTENANCE: the connectors are made of sturdy ABS to securely join the panels; the unit is waterproofed and dust-resistant; panels are easy to clean with a damp cloth; doors feature hole handles for easy opening as well as air flow
Imported from USA
best4buy.pk is bringing a deal of 4 Cubes Storage Cabinet/Shoe Rack – Black in such a low and affordable price which you will ll not get in Pakistan. So what are you waiting for? Come and grab this amazing product only at best4buy.pk!
4 Cubes Storage Cabinet/Shoe Rack – Black
is now available at www.best4buy.pk
best4buy.pk offers the best 4 Cubes Storage Cabinet/Shoe Rack – Black price in Pakistan with fast shipping in all the major cities of Pakistan. Including Karachi, Lahore, Islamabad, Sialkot, Faisalabad, Peshawar, Quetta, Multan, Rawalpindi, and many more cities at the lowest price.
4 Cubes Storage Cabinet/Shoe Rack – Black Price in Pakistan is Rs.5000/-